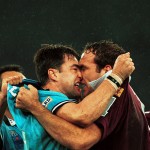 Another short bonus episode this week! Don't wait for the Footy Show and those other pretenders, get the first State of Origin wrap-up right here! Nate and Glen recap the game, the stars, the heroes and villains, and the outright liabilities from Game 2 of State of Origin 2011.
Subscribe
We are on a drive for more iTunes reviews and ratings!
We LOVE the awesome ratings and reviews we've received from listeners to date, and we want more! So here's the deal: we're running a competition and the winner is getting a GREAT prize – the first EVER This Week in League t-shirt that comes off the production line! You will be officially the first person to own one!
How To Enter
It's the easiest comp in the world to enter! You just need to fit the following criteria!
1. LIKE the This Week in League Facebook page
2. FOLLOW This Week in League on Twitter
3. REVIEW This Week in League on iTunes
Obviously we prefer GREAT reviews, but speak your mind! If you love the show, hit us with 5 stars! If you're SharkMan05, then go the 1 star! A good rating and review is not a prerequisite for winning this competition.
When the shirts are ready for production, we will be announcing our winner from the group of listeners who fit the bill! Then you just have to let us know your size and we'll get you the shiny first ever This Week in League shirt!
Listen now (Standard MP3 version)
This Week in League – Listen Now
Download (Enhanced with chapters and artwork)
Download M4A – Right click, Save as
Download (Standard MP3 version)
Download MP3 – Right click, Save as
As always, if you enjoy the show please head over to iTunes and give us a rating and a review!
If you're on Facebook and haven't become a fan of This Week in League yet, what are you waiting for? We've crashed through the 690 barrier, onward we march to 700!
Feel free to leave a comment below and help us spread the word by posting via your Twitter or Facebook account!