The Show
This Week in League is your award-winning weekly rugby league podcast! Each week Nate and Jay bring you all of the news, views and our 100% biased opinions about the sport we all love. Jay came onboard in 2016 to fill the void left by Glen's retirement from podcasting.
If you follow rugby league, it would be sacrilegious not to listen.
New episodes are online at 9am sharp EST,
each and every Wednesday during the NRL season!
Don't take our word for it though! Check out what our listeners have been saying about us on the iTunes Store!
"TWiL *****
These guys are hiliarious, not only do they give informative reviews of previous weeks games and preview of the coming weeks games, they just totally crack me up. You have to listen to them…"
"A Must for ALL Footy Fans *****
Seriously close to the most insightful, amusing and relevant reports on the NRL… If your exposure to league ranges from a lifetime League fan or suffering from the curse of following another code there's something in here for you"
"Great Show *****
A show for any rugby league tragics, bandwagoners or even Manly and Tigers fans you should download this podcast. It's funny, informative and just awesome!"
"The prophets of league *****
Although I can't agree with their slanderous sharks bashing, nor their choice of teams to support (the 'mighty' manly sea eagles and the wests tigers) these guys do present a 'no punches pulled' hilariously entertaining review of the NRL. Keep up the good work boys!"
"TWIL *****
Honestly, don't think, download this, have a drink, and sit back and enjoy the insight and humour that these guys have! You were like me, looking for a great NRL podcast, ya found it!"
Awards
We were extremely surprised and honoured when we found out (thanks to @lenier) that we had been selected as one of the Top 25 Podcasts in the "Best New Show" category of the iTunes Rewind 2010 Awards.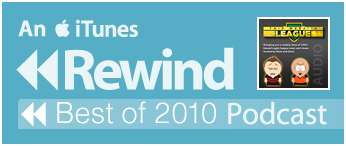 Mission
To connect every one-eyed, passionate and down right crazy Rugby League fan in one place. To become like The Footy Show, only funny. To bring a smile, or a grimace, to the faces of Rugby League Fans the World over.
About the site
New logo and Website designed, built and maintained by ngcreative
The Music
Main theme song
Justification (New World Order Remix) by Shades of Dust