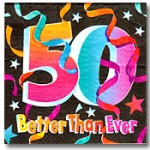 This week in league we celebrate another milestone – our 50th episode! Glen is amazed at how big garden sheds are down Manly way, and we also talk player burnout and those rumours at the Tigers! All that and much more on your #1 rugby league podcast in the world, This Week in League. Thanks so much for your support over the last 50 episodes, we couldn't do this without such great listeners!
As it is our 50th birthday, we invite you to share your favourite This Week in League moment with us! Hit us up on the Facebook wall, or tweet it out and make sure you tag it with the special hashtag #twil50!
Competition Time!
As we mention on the episode, to commemorate the impending arrival of our very first t-shirts we're having a competition! Our very first batch of shirts will be numbered, and we're giving one of you the chance to get t-shirt #1 that rolls off the production line!
How To Enter
It's the easiest comp in the world to enter! You just need to fit the following criteria!
1. LIKE the This Week in League Facebook page
2. FOLLOW This Week in League on Twitter
3. REVIEW This Week in League on iTunes
You also get an EXTRA entry in the comp for each of the following (for a maximum of two more votes):
4. Tweet: "I'm entering @TWiLeague's competition to win their first t-shirt ever! http://bit.ly/twilcomp #twilcomp"
5. Post on your Facebook wall "I'm entering @This Week in League's competition to win their first t-shirt ever! http://bit.ly/twilcomp"
In This Episode
Glen marvels at the size of Manly's garden shed as he spends an evening with the maroon and white faithful
We discuss those nasty rumours at the Wests Tigers
We talk player burnout, and offer some possible alternatives
To discuss this episode head to our This Week In League Discussion for Episode 50
Listen now (Standard MP3 version)
This Week in League – Listen Now
Download (Enhanced with chapters and artwork)
Download M4A – Right click, Save as
Download (Standard MP3 version)
Download MP3 – Right click, Save as
[member]
MEMBERS ONLY: Episode 50 Bloopers
No bloopers this week guys, it's incredible I know!
[/member]
[member]
MEMBERS ONLY: "Coach Killers" ringtone
Download MP3 – Right click, Save as
[/member]
Subscribe
If you're on Facebook and haven't become a fan of This Week in League yet, what are you waiting for? We've crashed through the 650 (almost 660!) barrier! Thanks everyone for recommending us to your friends!
Follow the conversation about this episode on Twitter by including the hashtags #NRL and #TWiLeague in your tweets! Feel free to throw @TWiLeague on there as well if you really want to catch our attention! Our advice: go to tweetchat.com and track the #TWiLeague hashtag there during games – it's like a chatroom for TWiL listeners!
As always, if you enjoy the show please head over to iTunes and give us a rating and a review! Thanks so much to everyone who has given us a rating already, and especially a review – thanks to you we were featured on the iTunes Store and the show has absolutely skyrocketed up the charts!
Feel free to leave a comment below and help us spread the word by posting via your Twitter or Facebook account!