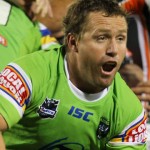 This week in league the guys celebrate the glorious glory of Brett Stewart and his magical night at the Fortress! We also wrap up all of the action from the Test Match and the City v Country game, as well as the shortened Round 9 of the NRL. All that and much more on the #1 Rugby League podcast on the planet!
No ESL report this week as they had a week off this week, it will return again next week!
If you're on Facebook and haven't become a fan of This Week in League yet, what are you waiting for? We've crashed through the 620 barrier, onward we march to 650!
Follow the conversation about this episode on Twitter by including the hashtags #NRL and #TWiLeague in your tweets! Feel free to throw @TWiLeague on there as well if you really want to catch our attention! Our advice: go to tweetchat.com and track the #TWiLeague hashtag there during games – it's like a chatroom for TWiL listeners! Note that this is a change from our previous #TWiL hashtag, there's too much noise on that tag so let's keep it unique!
In This Episode
We give our impressions of the big test match – we were there!
A full wrap up of the magical night at Fortress Brookvale
Forget the Uate Partay song – listener @fullstopltd has created the next pop sensation!
To discuss this episode head to our This Week In League Discussion for Episode 47
Listen now (Standard MP3 version)
This Week in League – Listen Now
Download (Enhanced with chapters and artwork)
Download M4A – Right click, Save as
Download (Standard MP3 version)
Download MP3 – Right click, Save as
[member]
MEMBERS ONLY: Episode 47 Bloopers
This Week in League – Listen Now
[/member]
[member]
MEMBERS ONLY: "Coach Killers" ringtone
Download MP3 – Right click, Save as
[/member]
Subscribe
As always, if you enjoy the show please head over to iTunes and give us a rating and a review! Thanks so much to everyone who has given us a rating already, and especially a review – thanks to you we were featured on the iTunes Store and the show has absolutely skyrocketed up the charts!
Feel free to leave a comment below and help us spread the word by posting via your Twitter or Facebook account!