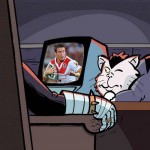 This week the guys hit you with all of the action from Round 7 of the 2011 NRL season! All about Uate Partays, new species of penguins, and that special relationship between Darius Boyd and Wayne Bennett. All that and more on your #1 Rugby League podcast, This Week in League! As you guys are probably aware, this week we were featured on the iTunes Store – so on behalf of everyone involved in the production of the show, THANK YOU! Special thanks to everyone who has left a review for us on iTunes, from what we can tell this played a major part!
If you're on Facebook and haven't become a fan of This Week in League yet, what are you waiting for man? At the time I'm typing this we are on 599! So close!
Follow the conversation about this episode on Twitter by including the hashtags #NRL and #TWiL in your tweets! Feel free to throw @TWiLeague on there as well if you really want to catch our attention! Our advice: go to tweetchat.com and track the #TWiL hashtag there during games – it's like a chatroom for TWiL listeners!
In This Episode
Listen now (Standard MP3 version)
This Week in League – Listen Now
Download (Enhanced with chapters and artwork)
Download M4A – Right click, Save as
Download (Standard MP3 version)
Download MP3 – Right click, Save as
[member]
MEMBERS ONLY: Episode 45 Bloopers
LANGUAGE WARNING: This week the bloopers are EXTRA adults-only. Seriously, you've been warned – if you are offended by bad language then DON'T listen! This week's bloopers feature an awesome yarn about Laurie Nichols, as well as our Graham Lowe resignaton story from TUESDAY that we had to shelve because it was too incriminating on the source!
This Week in League – Listen Now
[/member]
Subscribe
As always, if you enjoy the show please head over to iTunes and give us a rating and a review! Thanks so much to everyone who has given us a rating already, and especially a review – thanks to you we were featured on the iTunes Store and the show has absolutely skyrocketed up the charts!
Feel free to leave a comment below and help us spread the word by posting via your Twitter or Facebook account!