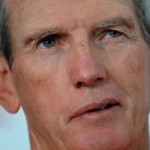 Episode 43 of This Week in League is live! This week the guys go to war with a toothless shark, dissect the big announcements regarding Wayne Bennett and Jamal Idris, and cover all of the news, views, reviews and previews (and anything else that rhymes with that) from the world of the NRL and ESL! All that and more on the #1 rugby league podcast in the world – This Week in League.
If you're on Facebook and haven't become a fan of This Week in League yet, go go go, do it! 600 is the next goal to aim for! You can also hit the "Like" button on the right of this page.
Follow the conversation about this episode on Twitter by including the hashtags #NRL and #TWiL in your tweets!
In This Episode
We unleash the might of the TWiLNation onto SharkMan05
Nate takes massive kickbacks from the orange growers cartel
We disagree on the pronunciation of "Salford". Repeatedly.
It's a massive week in betting and everyone is going to get rich, thanks to PuntClub.com
To discuss this episode head to our This Week In League Discussion for Episode 43
NOTE: Around the 30 minute mark you'll hear Glen's audio drop out a bit for around 45 seconds. Unfortunately it was an unpreventable technical issue and we made the best of it that we could!
Listen now (Standard MP3 version)
This Week in League – Listen Now
Download (Enhanced with chapters and artwork)
Download M4A – Right click, Save as
Download (Standard MP3 version)
Download MP3 – Right click, Save as
[member]
MEMBERS ONLY: Episode 43 Bloopers
Episode 43 Bloopers – Listen Now
[/member]
Subscribe
As always, if you enjoy the show please head over to iTunes and give us a rating and a review! iTunes rankings rely upon NEW subscribers to the show, so the more you can spread the word the better we will rank!
Feel free to leave a comment below and help us spread the word by posting via your Twitter or Facebook account!