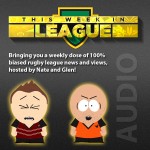 Episode 30 of This Week in League, the GRAND FINAL episode, is online! In this episode the guys run the ruler over the grand final sides and their chances, along with all of the news and views, insults and blowups you've come to know and (maybe) love!
Don't forget, TWiLLY voting is NOW OPEN. Cast your vote and help decide the winners of our first annual awards, to be presented on Episode 31! All voters who fill out the survey completely will go into the running to win a 2011 NRL JERSEY from the team of their choice! You have until 11.45pm EST (NOT EDT) on Monday 4th October to enter at this address
If you're on Facebook and haven't become a fan of This Week in League yet, go go go, do it! Join the discussion over there and share with your friends!
In This Episode
Listen now (Standard MP3 version)
This Week in League – Listen Now
Download (Enhanced with chapters and artwork)
Download M4A – Right click, Save as
Download (Standard MP3 version)
Download MP3 – Right click, Save as
Subscribe
As always, if you enjoy the show please head over to iTunes and give us a rating and a review! iTunes rankings rely upon NEW subscribers to the show, so the more you can spread the word the better we will rank!
It's September, so we need your vote at Podcast Alley! Please cast your vote at This Week in League on Podcast Alley! It's going to be October tomorrow as well, so if you could hit us with a vote in EACH month we would love you more than Glen loves Sonny Bill Williams!
To discuss this episode head to our Facebook Discussion for Episode 30.
Thanks to Superfan Nigel Bridgeman (@nigelbridgeman) for his suggestion of Dio's "Killing the Dragon" which was used at the end of the episode!