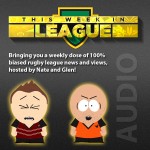 Episode 25 of This Week in League is now available! This week we get all X-Files as we try and explain the paranormal activity that transpired at Parramatta last Sunday afternoon. One Manly player loses his new nickname for a week as another player gains a new nickname. Nate gets bleeped after successfully running the gauntlet for almost the entire season! Oh, plus there's news, reviews and previews as you would expect!
In This Episode
Glen's father makes a cameo at Parramatta Stadium
Nate regrets regretting calling Tony "T-Rex" Williams the next rugby league Immortal
Michael Luck earns our respect for being a tough bastard
We salute Cooper Vuna for scoring a hat-trick – the mark of a quality player!
Plus reviews and previews for all of your NRL action!
Listen now (Standard MP3 version)
This Week in League – Listen Now
Download (Enhanced Podcast with chapters and artwork)
Download M4A – Right click, Save as
Download (Standard MP3 version)
Download MP3 – Right click, Save as
Subscribe
As always, if you enjoy the show please head over to iTunes and give us a rating and a review!
We're still killing it on Podcast Alley in their Sports and Recreation category, but we always need more votes! Please cast your vote at This Week in League on Podcast Alley! If you could leave a comment too that would be fantastic, a load of new listeners are finding us over there so tell them why they should listen!
To discuss this episode head to our Facebook Page, click "Discussions" and look for "Episode 25".
Oh, and I said I'd put up the picture of Michael Luck's leg so you can see where Watmough hit him with an axe, so here it is!!