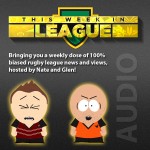 Episode 24 of This Week in League is online! This week the show heads to the kitchen as the guys talk salad, purple skittles, and the fury of milk. We also have a tribute to one fallen legend of the game, and a "good riddance" to another clown! All of this plus the latest in NRL news, reviews, and previews!
In This Episode
The guys pay tribute to a fallen hero
Nate regrets declaring Tony "T-Rex" Williams the next rugby league Immortal
The guys ponder the short-term memory of Fetuli Talanoa
We give our wonderful listeners some voting advice for Saturday
Plus reviews and previews for all of your NRL action!
Listen now (Standard MP3 version)
This Week in League – Listen Now
Download (Enhanced Podcast with chapters and artwork)
Download M4A – Right click, Save as
Download (Standard MP3 version)
Download M4A – Right click, Save as
Subscribe
As always, if you enjoy the show please head over to iTunes and give us a rating and a review!
We're still killing it on Podcast Alley in their Sports and Recreation category, but we always need more votes! Please cast your vote at This Week in League on Podcast Alley! If you could leave a comment too that would be fantastic, a load of new listeners are finding us over there so tell them why they should listen!
To discuss this episode head to our Facebook Page, click "Discussions" and look for "Episode 24".