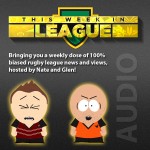 Episode 23 of This Week in League is online! This week the Greg Inglis circus FINALLY ends, the Storm shed some more players, the guys celebrate the brilliance of the Sea Eagles, and Glen reflects on what, if anything, Beau Knows. All that and more as we run the ruler over round 22 of season 2010!
In This Episode
Glen declares Manly "will be in the grand final for sure"
Nate declares Tony "T-Rex" Williams the next rugby league Immortal
The guys ponder what – if anything – "Beau Knows"
Plus reviews and previews for all of your NRL action!
Listen now
This Week in League – Listen Now
Download
Download M4A – Right click, Save as
Subscribe
As always, if you enjoy the show please head over to iTunes and give us a rating and a review!
We're also still #1 on Podcast Alley in their Sports and Recreation category. This is 100% due to you guys so we really appreciate it! It's August so if you haven't done so please cast your vote at This Week in League on Podcast Alley! If you could leave a comment too that would be fantastic, a load of new listeners are finding us over there so tell them why they should listen!
To discuss this episode head to our Facebook Page, click "Discussions" and look for "Episode 23".