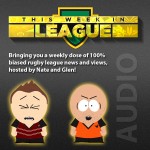 Episode 22 of This Week in League is online! In this week's show the guys talk about the red hot Roosters, the choking Dragons, and the continuing circus around the signing of Greg Inglis and Steve Matai. We also give a blunt ultimatum to Todd Greenberg, CEO of the Bulldogs.
In This Episode
We talk about the hairstyles seen at the Uate Partay
We make Todd Greenberg an offer he can't (but probably will) refuse
Plus reviews and previews for all of your NRL action!
Listen now
This Week in League – Listen Now
Download
Download MP3 – Right click, Save as
Subscribe
As always, if you enjoy the show please head over to iTunes and give us a rating and a review!
We're also still #1 on Podcast Alley in their Sports and Recreation category. This is 100% due to you guys so we really appreciate it! It's August so please cast your vote at This Week in League on Podcast Alley! If you could leave a comment too that would be fantastic, a load of new listeners are finding us over there so tell them why they should listen!
To discuss this episode head to our Facebook Page, click "Discussions" and look for "Episode 22".