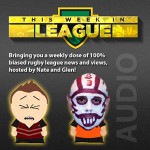 Episode 21 of This Week in League is now online! Let's cut to the chase – this episode contains all of the news and views you've come to expect from the show, but it also contains the EPIC fallout from Glen's ridiculous challenge that he made in Episode 20!
In This Episode
Glen accepts his fate with dignity, before Nate strips his dignity away
We reveal the finished artwork that makes up Glen's much-improved head
We take issue with Johnny Lang and his assertions about the greatness of Chris Sandow
Plus reviews and previews for all of your NRL action!
Listen now
This Week in League – Listen Now
Download
Download MP3 – Right click, Save as
Subscribe
The Facepaint!!
Ok guys, here are the epic photos! Stay tuned for a VIDEO episode of the show that covers the entire painting process with some explanation of the artistic decisions that the maestro Nate made! (click to enlarge the pics below!)
As always, if you enjoy the show please head over to iTunes and give us a rating and a review!
We're also still #1 on Podcast Alley in their Sports and Recreation category. This is 100% due to you guys so we really appreciate it! Cast your final vote for us in July at: This Week in League on Podcast Alley! If you could leave a comment too that would be fantastic, a load of new listeners are finding us over there so tell them why they should listen! August is just around the corner so if you can help us maintain our assault on the top spot that would be awesome!
To discuss this episode head to our Facebook Page, click "Discussions" and look for "Episode 21".