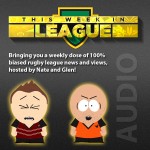 Episode 19 of This Week in League is now online! This week things get sweary as Nate attempts to get to the bottom of Manly's form slump!
In This Episode
Nate sends the interns down to Officeworks to buy Graham Lowe a pen
The guys salute the Warriors for their upset of the season
Glen gives Lote an ultimatum: get a hat-trick this round or he'll never call it AGAIN.
The guys analyse the upcoming Rivalry Round and ponder how deep some of these alleged rivalries go
As always, if you enjoy the show please head over to iTunes and give us a rating and a review. Some great new reviews have popped up over the last couple of weeks, to those fine folks – we salute you!
We're also on #1 on Podcast Alley in their Sports and Recreation category. This is 100% due to you guys so we really appreciate it! Cast your vote for us in July at: This Week in League on Podcast Alley!
To discuss this episode head to our Facebook Page, click "Discussions" and look for "Episode 19". Even Bears fans get in there, and they don't even have a team, so what are you waiting for?
Listen now
This Week in League – Listen Now
Download
Download MP3 – Right click, Save as
Subscribe