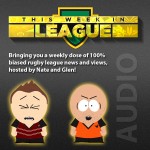 Episode 18 of This Week in League is now online! This week the guys talk about the return of Gasnier, the likely exit of Noddy, the ongoing persecution of The Ottoman, along with a bunch more!
In This Episode
Debt collectors are called on to visit Kevin Moore
Nate mourns a weekend without any Manly games
Glen gets up close and personal with Lote Tuqiri
The guys preview the round of matches, including a potential "Vuvuzela of the Year" candidate
As always, if you enjoy the show please head over to iTunes and give us a rating and a review. Thanks so much to everyone who has done this already!
We're also on Podcast Alley, and we're STILL number 1 in their Sports and Recreation category. This is 100% due to the the votes and comments you guys have put up there, so we really appreciate it! It's now a new month, so if you could take a moment to visit them and cast your vote for This Week in League for the month of July that would be awesome!
To discuss this episode head to our Facebook Page, click "Discussions" and look for "Episode 18". These discussions are continuing to blow up, so get in there and have your say!
Listen now
This Week in League – Listen Now
Download
Download MP3 – Right click, Save as
Subscribe