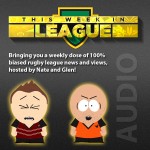 Episode 17 of This Week in League is now online! In this episode the guys discuss the ongoing rumours surrounding the Gold Coast Titans, the return to the NRL of "Le Gaz", and all the news and reviews from the week in league. Most of all though, we celebrate the return of our show mascot to the top level of footy – The Ottoman is back!
In This Episode
The guys reveal details about a new rugby league game for PS3 and Xbox 360
Nate diagnoses problems with the NSW Origin team's "spine"
Glen salutes the next great Tigers halfback
The guys carry on about The Ottoman for far too long
As always, if you enjoy the show please head over to iTunes and give us a rating and a review. The last two weeks have seen a massive surge in listeners, so for all of those you recommended us to a friend – THANK YOU. We really appreciate it!
We're also on Podcast Alley, and for the last few weeks we've been NUMBER 1 in their Sports and Recreation category. This is 100% due to the the votes and comments you guys have put up there, so we really appreciate it! It's now a new month, so if you could take a moment to visit them and cast your vote for This Week in League for the month of July that would be awesome!
To discuss this episode head to our Facebook Page, click "Discussions" and look for "Episode 17". These discussions are continuing to blow up, so get in there and have your say!
Listen now
This Week in League – Listen Now
Download
Download MP3 – Right click, Save as
Subscribe