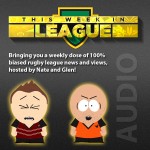 Episode 15 of This Week in League is now online! Apologies that it is around 3hrs later than usual this week, a perfect storm of circumstances conspired to delay things a little!
NOTE: There is some weirdness going on with Nate's mic from about 1:08:30 until 1:12:30 – not sure what the deal is there but unfortunately it wasn't fixable.
In This Episode
A full report on the first grade debut of ROCHOW!
A full report on Trent Hodkinson (and others) moving elsewhere
Nate gives a rundown on the Manly members function and the big game at Skilled.
All of the news, views, reviews, and previews you've come to expect!
As always, if you enjoy the show please head over to iTunes and give us a rating and a review. iTunes is going off lately, and thanks to you guys we are consistently in the Top 15 Sports & Recreation podcasts, and we're a staple of the "What's Hot" and "News & Noteworthy" sections as well!
We are now also listed on Podcast Alley, so we'd really appreciate it if you could take a moment to visit them and cast your vote for This Week in League! Your votes count BIG TIME on PCA – thanks to you guys we are now the NUMBER ONE Sports podcast listed! We're also skirting the Top 50 of ALL podcasts on PCA so thank you so much guys!
To discuss this episode head to our Facebook Page, click "Discussions" and look for "Episode 15". These discussions are continuing to blow up, so get in there and have your say!
Listen now
This Week in League – Listen Now
Download
Download MP3 – Right click, Save as
Subscribe