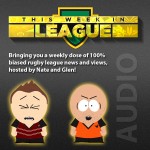 Episode 14 of This Week in League is now online!
It's another State of Origin blockbuster this week as the guys cast their eyes over both teams for Game 2 of the series! We also put you guys, the superfans of the show on notice to get in and convince us why you should rep your team for the mid-season report card episode of the show that is coming soon!
In This Episode
All of the Origin teams, additions and omissions
Spite Night at Parramatta when the Storm came to town!
TWiL may have found another mascot – ROCHOW! Who? Yep, that's right!
All of the news, views, reviews, and previews you've come to expect!
As always, if you enjoy the show please head over to iTunes and give us a rating and a review. We've had a couple of new reviews there lately, so if you were one of them, make yourself known! iTunes is going off lately, and thanks to you guys we are consistently in the Top 15 Sports & Recreation podcasts, and we're a staple of the "What's Hot" and "News & Noteworthy" sections as well!
We are now also listed on Podcast Alley, so we'd really appreciate it if you could take a moment to visit them and cast your vote for This Week in League! Your votes count BIG TIME on PCA – thanks to you guys we are now the NUMBER ONE Sports podcast listed! We're also skirting the Top 50 of ALL podcasts on PCA so thank you so much guys!
To discuss this episode head to our Facebook Page, click "Discussions" and look for "Episode 14". These discussions are continuing to blow up, so get in there and have your say!
Listen now
This Week in League – Listen Now
Download
Download MP3 – Right click, Save as
Subscribe