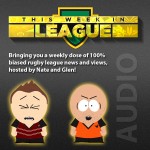 Episode 13 of This Week in League is now online!
In this, the luckiest episode of them all, in addition to our ongoing quest to hit 500 Facebook Page members we also announce our very special NRL Mid-Season Report Card! Listen to the show to find out how YOU can get on the show and represent YOUR team!
In This Episode
We give you the rundown on Israel Folau, what it means to the NRL, and how we feel!
Johnathon Thurston has to account for his potty mouth – like we can talk!
TWiL may have found their mascot – THE OTTOMAN
All of the news, views, reviews, and previews you've come to expect!
In the show Nate mentioned the Thurston footage – if you haven't seen it, get it here: http://bit.ly/POTTYMOUTH
As always, if you enjoy the show please head over to iTunes and give us a rating and a review.
We are now also listed on Podcast Alley, so we'd really appreciate it if you could take a moment to visit them and cast your vote for This Week in League! We really need your vote each month on PCA, so as it's June please help us out if you have the time!
To discuss this episode head to our Facebook Page, click "Discussions" and look for "Episode 13". These discussions are continuing to blow up, so get in there and have your say!
Listen now
This Week in League – Listen Now
Download
Download MP3 – Right click, Save as
Subscribe