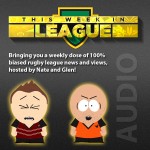 Episode 11 of This Week in League is now online!
This week our heroes battle the darkest weekend in Glen's life, as he struggles to come to terms with the capitulation of his beloved Tigers at the hands of the Rabbitohs!
Our competition is still on the go, and it's simple to enter – simply sign up to/"like" our Facebook Page! Once we hit 500 people we're giving away a prize to a random fan! The quicker we reach the milestone, the quicker we can roll out the next one!
In This Episode
The guys cast their critical eye over the State of Origin team selections
Glen asks the Wests Tigers the hard questions
We welcome our newest celebrity superfan (?) to the show!
As always, if you enjoy the show please head over to iTunes and give us a rating and a review.
We are now also listed on Podcast Alley, so we'd really appreciate it if you could take a moment to visit them and cast your vote for This Week in League!
To discuss this episode head to our Facebook Page, click "Discussions" and look for "Episode 11". If you're new to the show feel free to comment on the earlier episodes as you catch up! The Facebook discussions are jumping at the moment with some great topics (and some ridiculous ones) added by our beloved superfans!
Listen now
This Week in League – Listen Now
Download
Download MP3 – Right click, Save as
Subscribe