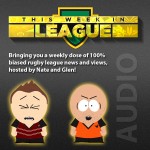 Episode 10 of This Week in League is now online!
Unbelievably we've made it to double-digits! In this baby-milestone of an episode the guys talk rep footy, player movements, and hat-tricks galore!
In this episode we also announce our first competition, and it's simple to enter – simply sign up to/"like" our Facebook Page! Once we hit 500 people we're giving away a prize to a random fan, maybe a jersey or some This Week in League schwag! Let's hear your thoughts on the type of prize you'd like to win!
In This Episode
The guys give their take on all things Test Match and City v Country
Paul Osborne gets our nod for "CEO of the year"
The guys argue about the merits of certain heritage round jerseys
As always, if you enjoy the show please head over to iTunes and give us a rating and a review. Great reviews coming in so far, so thanks for taking the time guys, we really appreciate it!
To discuss this episode head to our Facebook Page, click "Discussions" and look for "Episode 10" If you're new to the show feel free to comment on the earlier episodes as you catch up! We're getting loads of people joining up to the Facebook page so get in there and get involved!
This week we have another special discussion – get on there and pick YOUR State Of Origin teams! Kimmorley? Ennis V Farah? Who replaces Cameron Smith if he's injured? Let's hear your thoughts!
Listen now
This Week in League – Listen Now
Download
Download MP3 – Right click, Save as
Subscribe