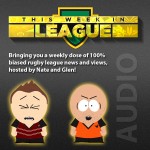 Episode 9 of This Week in League is now online!
This week Glen returns from the jungles of PNG to take his rightful place as co-host of the #1 Rugby League podcast in the world!
In This Episode
Glen gives us the lowdown on his trip to Kokoda
The guys preview the upcoming test match and City vs Country match
The arguments start up again about the Revelation Of The 2010 NRL Season
Glen shares a shameful secret from his past
As always, if you enjoy the show please head over to iTunes and give us a rating and a review. Great reviews coming in so far, so thanks for taking the time guys, we really appreciate it!
Get involved and discuss this episode in the talkback on our Facebook Page http://facebook.com/thisweekinleague. Just head to "Discussions" and look for "Episode 9" If you're new to the show feel free to comment on the earlier episodes as you catch up! We're getting loads of people joining up to the Facebook page so get in there and get involved!
Don't forget the special discussion thread that will also accompany this episode entitled "Is Glen a Filthy State Traitor?". Get on there, declare your allegiances, and judge everyone in the harsh manner befitting a rugby league fan!!
Listen now
This Week in League – Listen Now
Download
Download MP3 – Right click, Save as
Subscribe