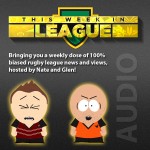 Episode 8 of This Week in League is now online!
This week we have our final special guest host filling in for Glen: Doug, a Sharkies supporter. What a time for him to come on the show, with the Sharkies racking up a HUGE win against the Knights! In this episode the guys discuss the giant dragon riding abilities of Jamal Idris, wrap up all the action from round 7 of the NRL season, preview all of the action for round 8 and much much more!
In This Episode
The Sharkies avoid the spoon, AND avoid a kicking for a week
We put the Storm on the backburner (mostly) to talk about footy again
Doug tries to rustle up more fans for the Sharks (trust me, it's very unconvincing!))
The guys bemoan their personal lack of speedboats and Jayco caravans (hint, hint)
As always, if you enjoy the show please head over to iTunes and give us a rating and a review. Great reviews coming in so far, so thanks for taking the time guys, we really appreciate it!
Get involved and discuss this episode in the talkback on our Facebook Page http://facebook.com/thisweekinleague. Just head to "Discussions" and look for "Episode 8" If you're new to the show feel free to comment on the earlier episodes as you catch up! We're getting loads of people joining up to the Facebook page so get in there and get involved!
Listen now
This Week in League – Listen Now
Download
Download MP3 – Right click, Save as
Subscribe