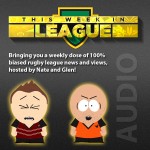 A very special bonus episode of This Week in League is now online!
The very same day that Episode 7 launched, a massive bombshell dropped: the Melbourne Storm, the benchmark team of the last four seasons, were busted for massive salary cap violations. The breaches they committed were unprecedented, and so was the punishment.
Rather than subject you all to another hour or so of us talking, we decided to take a different approach to this episode. After giving you our opinions on the situation, we turn the show over to you guys, the loyal listeners who love rugby league every bit as much as we do.
On this episode you will hear comments by, interviews with, or prepared statements written by the following league tragics:
Mark "MG" Geyer – legend of the game who needs no introduction
Blake – a Melbourne Storm fan
Brendan – a Melbourne-based Sea Eagles fan
Big Dan – a Newcastle Knights fan
KAGE – an Eels fan
John – a Bradford Bulls tragic from the UK
Israel and Chris from Sports FanAttic – good friends of TWiL from NZ, and supporters of the NZ Warriors
Ben – a Wests Tigers (and formerly Balmain) tragic
Jonathon – a Cowboys fan based in Central-West QLD who is involved in junior rugby league
Thanks so much for everyone who made the effort to get involved, both in this episode and on the website/Facebook page – you guys rock! Massive thanks to my substitute P-I-C Kate who stepped up to the plate again on extremely short notice!
As always, if you enjoy the show please head over to iTunes and give us a rating and a review. Great reviews coming in so far, so thanks for taking the time guys, we really appreciate it!
Get involved and discuss this episode in the talkback on our Facebook Page http://facebook.com/thisweekinleague. Just head to "Discussions" and look for "Bonus Episode" If you're new to the show feel free to comment on the earlier episodes as you catch up!
Listen now
This Week in League – Listen Now
Download
Download MP3 – Right click, Save as
Subscribe