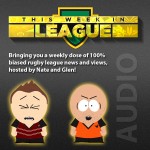 Episode 7 is now live! Nate and very special guest host Kate salute some champion players hitting career milestones, take a shot at picking the Australian side for the upcoming test against New Zealand, reflect on round 6 of the NRL season, and much more!
The title of this episode is thanks to Kate, who mentioned the tremendously appropriate book "The Shark Who Was Afraid of the Deep End"!
As always, if you enjoy the show please head over to iTunes and give us a rating and a review. We're starting to get a good amount of excellent reviews up there now, so thanks for taking the time guys, we really appreciate it!
Get involved and discuss this episode in the talkback on our Facebook Page http://facebook.com/thisweekinleague. Just head to "Discussions" and look for Episode 7! If you're new to the show feel free to comment on the earlier episodes as you catch up!
In this episode
Nate returns to something resembling full health to hail the Sea Eagles great win
Kate tries gamely to add a woman's touch to the show with an extra sprinkle of Bronco love
Glen Stewart, Nathan Hindmarsh and Luke Priddis receive their accolades
It's business as usual as the Sharkies answer for their performance on the weekend (this point was in the summary for last week's show but I see no reason to remove it this week!)
Based on fan input, the team attempts to come to agreement on the makeup of the Kangaroos for the upcoming test match
Listen now
This Week in League – Listen Now
Download
Download MP3 – Right click, Save as
Subscribe