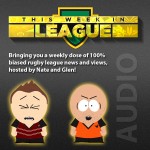 Episode 6 is now live! The guys reflect on round 5 of the NRL season, discuss the spate of terrible injuries hitting the game, preview the action for round 6, and much more!
As always, if you enjoy the show please head over to iTunes and give us a rating and a review. Thanks so much to those legends who have rated the show and written a review, and Benji Marshall, if that was REALLY you who left a review, get in touch!
Get involved and discuss this episode in the talkback on our Facebook Page http://facebook.com/thisweekinleague. Just head to "Discussions" and look for Episode 6! If you're new to the show feel free to comment on the earlier episodes as you catch up!
In this episode
Nate crawls off his death bed to sledge your favourite NRL team
Glen packs his bags for a short trip to trek Kokoda
Parramatta cop a well-deserved kicking (again)
It's business as usual as the Sharkies answer for their performance on the weekend
Glen shocks the world and admits that he was wrong when he said Manly had no halves!
Listen now
This Week in League – Listen Now
Download
Download MP3 – Right click, Save as
Subscribe