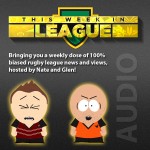 Episode 5 is now live! The guys reflect on round 4 of the NRL season, discuss the retirement of two legends of the game, preview the action for round 5, and more!
As always, if you enjoy the show please head over to iTunes and give us a rating and a review. Thanks to you guys we are now running at a rating of 5/5 stars which is AMAZING, so keep those ratings coming in! Why not also drop a review on there and tell any casual observers why they should be listening to the show!
In the episode Nate mentions a video of Michael "Wangman" Robertson – unfortunately we were unable to obtain the video, it has been removed from Youtube for "violation of copyright". Who knew that Robbo had copyrighted his wang?
Feel free to discuss anything you loved or hated about this episode on our Facebook page. Just head to the discussions section and look for the Episode 5 thread!
In this episode
Nate somehow links Steve Price's retirement to the Vietnam War
The boys take on Nostradamus
Parramatta cop a well-deserved kicking
There is unusual silence on the issue of the Revelation of the 2010 NRL season (for once!)
Listen now
This Week in League – Listen Now
Download
Download MP3 – Right click, Save as
Subscribe
Notes
– We have WAY more subscribers to the show than we do fans on our Facebook page, so get on there guys: http://facebook.com/thisweekinleague