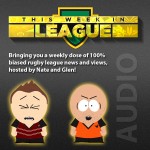 Episode 4 is now live! The guys take a look at Round 4 of the NRL season, Alfie Langer stripped down to his jocks, the new rugby league game on Wii, and more!
As always, if you enjoy the show please head over to iTunes and give us a rating and a review. Thanks to you guys we are now running at a rating of 5/5 stars which is AMAZING, so keep those ratings coming in! Why not also drop a review on there and tell any casual observers why they should be listening to the show!
In this episode
Glen somehow links the Eels to midget porn
The boys review the new game "Rugby League 3" on Nintendo Wii
Glen somehow links JT to boobs
The debate about the Revelation of the 2010 NRL Season continues (and probably will forever)
Titans, you got some 'splaining to do!
Listen now
This Week in League – Listen Now
Download
Download MP3 – Right click, Save as
Subscribe
Notes
– We have WAY more subscribers to the show than we do fans on our Facebook page, so get on there guys: http://facebook.com/thisweekinleague
– Last week's episode made it to #9 on the iTunes Sports and Recreation category, let's push to #1!