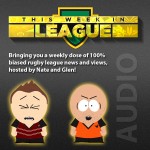 Episode 3 is now live! Round 2 of Season 2010 is history, and the guys take a look back at the week that was!
As always, if you enjoy the show please head over to iTunes and give us a rating and a review. At the moment we still need to get some more votes in for them to give us a rating!
Thanks so much for the response to the show so far, keep the feedback coming and spread the word!
After this episode was recorded the REAL culprit behind the mysterious "removal" of the door to the visitor's dressing room at Parramatta Stadium was revealed! See the footage below!
"DESSIE MAD! DESSIE SMASH!"
In this episode
Glen has some investment advice for 'Sonny' Ben Hannant
The boys blow the whistle on the standard of refereeing
Nate still finds a way to sledge the unstoppable Dragons
The debate about the Revelation of the 2010 NRL Season heats up
Glen forgets where he comes from
Listen now
This Week in League – Listen Now
Download
Download MP3 – Right click, Save as
Subscribe
Notes
– Our Facebook Fan Page just became easier to remember: http://facebook.com/thisweekinleague
– Thanks to Cameron (@FallofReach) for the heads up on the youtube footage of Dessie losing his shit!