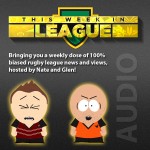 Episode 2 is now live! Here Nate and Glen attempt to rationally discuss all of the action from round one of the NRL without murdering each other!
The iTunes page for the show is now well and truly up and running, so get over there and rate the show and leave a review!
Thanks so much for the response to the show so far, keep the feedback coming and spread the word!
In the show we make mention of Ryan Phelan, host of Monday Night Football on Fox Sports – here's the footage!
In this episode
The guys name the TWiL studios
Glen deals with a turncoat in his own home
Beau Ryan auditions for the Melbourne Storm
Glen does 'The Lote'
A full review of all the action from Round 1
A full preview of all the action in Round 2
Listen now
This Week in League – Listen Now
Download
Download MP3 – Right click, Save as
Subscribe
Notes
– Sound issues from Episode 1 should be solved. New microphones FTW!
– Thanks to Craig @cocodmonkey for the heads up on the Fox Sports youtube video
– Thanks to PJ Brown for the assist on the sound loops