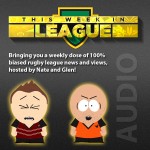 Finally, the long awaited first episode of This Week in League is available! We would love to hear any feedback, so don't be shy – leave a comment or head over to our Facebook page and let us know what you think!
In this episode
The heroes of the show declare their allegiances
Glen reveals his man-crush on Sonny Bill Williams
Nate reminds us of what really happened in the '97 Grand Final
The guys peer into the crystal ball and reveal the fate of YOUR team in the 2010 season
A full preview of all the action in Round 1
Listen now
This Week in League – Listen Now
Download
Download MP3 – Right click, Save as
Subscribe
Note
As it's a brand new podcast it may take a few days for it to become searchable in the iTunes store – if you use the link above you will be able to subscribe directly.