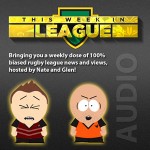 This week in league we head back to our first episode of 2011 and recap our rash predictions, and see if we got ANYTHING right! Plus the usual batch of news, views and reviews that the rugby league world dished up this week on the Number 1 Rugby League podcast in the world, This Week in League.
Podcast Awards
Thanks to the fine listeners who nominated us we are in the 2011 Podcast Awards! We have a really tough road ahead of us if we want to win this thing, and we need your help once more!
GET ALL OF THE DETAILS ON HOW TO VOTE HERE!
Download
Download M4A – Right click, Save as
Subscribe
Subscribe via iTunes
If you're on Facebook and haven't become a fan of This Week in League yet, what are you waiting for? We reached our goal of 800 by the end of the season, thanks heaps guys!!
As always, if you enjoy the show please head over to iTunes and give us a rating and a review! Thanks so much to everyone who has given us a rating already, and especially a review – thanks to you we were featured on the iTunes Store and the show has absolutely skyrocketed up the charts!
Feel free to leave a comment below and help us spread the word by posting via your Twitter or Facebook account!