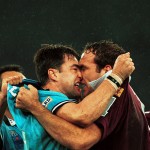 Another short bonus episode this week, a prelude to our regular one on Thursday! To get you all in the mood for the brutality of the third and deciding State of Origin game, Nate and Glen run the ruler over the sides and give their incredibly biased opinions of how they think the game will go down! Less a preview and more an interstate slanging match, listen and hit us with your thoughts!
If you're on Facebook and haven't become a fan of This Week in League yet, what are you waiting for? We've crashed through the 700 barrier, onward we march to 800! Also, make yourself known! Hit us up on the wall, let us know who you support!
Listen now (Standard MP3 version)
This Week in League – Listen Now
Download (Enhanced with chapters and artwork)
Download M4A – Right click, Save as
Download (Standard MP3 version)
Download MP3 – Right click, Save as
Subscribe
As always, if you enjoy the show please head over to iTunes and give us a rating and a review! Thanks so much to everyone who has given us a rating already, and especially a review – thanks to you we were featured on the iTunes Store and the show has absolutely skyrocketed up the charts!
Feel free to leave a comment below and help us spread the word by posting via your Twitter or Facebook account!