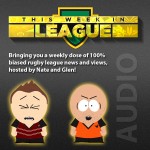 This week the reigns have been handed over to a deadset legend – our Superfan Benny (@tiger_benji) who, of his own accord decided to compile an episode of his favourite moments from the 2010 season of This Week in League.
It would have been a massive undertaking to sort through 50hrs+ of footage, so we take our hat off to the great man! If you enjoy this episode make sure you send him a tweet and tell him what a champion he is! Tag it with #TWiL so we can see you pay homage as well! See you on March 10th for the first episode of This Week in League for 2011!
What's your favourite moment of the 2010 season? Let us know down below!
If you're on Facebook and haven't become a fan of This Week in League yet, go go go, do it! Join the discussion over there and share with your friends! We've smashed our target of 500 fans by the start of the season, so let's go for 600!
Listen now (Standard MP3 version)
This Week in League – Listen Now
Download (Enhanced with chapters and artwork)
Download M4A – Right click, Save as
Download (Standard MP3 version)
Download MP3 – Right click, Save as
Subscribe
As always, if you enjoy the show please head over to iTunes and give us a rating and a review! iTunes rankings rely upon NEW subscribers to the show, so the more you can spread the word the better we will rank! It's thanks to you guys and girls that we got an iTunes award last year, so let's go back to back!