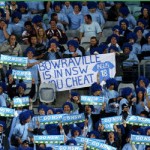 Episode 42 of This Week in League is live! This week there's loads of news to cover, from Martin Kennedy's identity crisis, Matt Keating's dog bothering, Choc Watmough's weak bladder and much more! As always we also cover all of the match reviews from Round 4 of the NRL season and preview the action from Round 5! English Super League fans, we've got you covered too!
If you're on Facebook and haven't become a fan of This Week in League yet, go go go, do it! 600 is the next goal to aim for! You can also hit the "Like" button on the right of this page.
Follow the conversation about this episode on Twitter by including the hashtags #NRL and #TWiL in your tweets!
In This Episode
We run through all of the action from Round 4 of NRL Season 2011
State traitors run wild in the leadup to State Of Origin!
We ask the question: are the Burgess boys just a superannuation plan for Mama Burgess?
Glen makes a sensible bet (finally), thanks to PuntClub.com. Will it be our first winner?
To discuss this episode head to our This Week In League Discussion for Episode 42
Listen now (Standard MP3 version)
This Week in League – Listen Now
Download (Enhanced with chapters and artwork)
Download M4A – Right click, Save as
Download (Standard MP3 version)
Download MP3 – Right click, Save as
[member]
MEMBERS ONLY: Episode 42 Bloopers
Episode 42 Bloopers – Listen Now
[/member]
Subscribe
As always, if you enjoy the show please head over to iTunes and give us a rating and a review! iTunes rankings rely upon NEW subscribers to the show, so the more you can spread the word the better we will rank!
Feel free to leave a comment below and help us spread the word by posting via your Twitter or Facebook account!